Album Reviews & Vinyl Pressing Info: Rise Against - End Game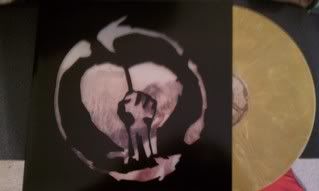 Today I'm going to be starting a new column of album/vinyl reviews. I figure I might as well make some use of all these records laying around rather than allowing them to collect dust between rotations on the turntable.
Rise Against recently released their new album "Endgame" on 500 copies of orange marble vinyl, 1,000 copies on clear vinyl and the rest on black vinyl.
I must admit, I was never a huge fan of Rise Against, but they continue to climb their way into my regular rotation more and more as the years go by. I remember hearing songs such as "Give It All" and "Join The Ranks" on various samplers such as
Rock Against Bush, Vol. 1
and
Fat Music, Vol. 6: Uncontrollable Fatulence [Vinyl]
which drove me to purchase
Siren Song of the Counter-Culture
. A year or two down the line I found myself picking up
Sufferer & The Witness (explicit)
and
Appeal To Reason
both on vinyl. If only I had picked up Siren Songs on vinyl... I would kill for that one now.
Love them or hate them, Rise Against is making music with a powerful message. This isn't some mindless club music which serves as nothing more than something to "shake your booty" to. These guys want you to THINK critically for a moment about REAL WORLD issues.
Of course many of you have probably heard the new single, "Help Is On The Way" which is definitely one of the top tracks on the album. Upon first listen, with the title line ("help is on the way") ringing in my ears, I had images conjured in my head of paramedics/firefighters etc... listening to the song on their radio's while responding to some noble call. As I heard the song more often and the lyrics became clearer to me, I realized this is a song about the New Orleans area ("crescent city") and the disasters such as Hurricane Katrina and the BP Oil Spill crisis that have affected them.
"five thousand feet below
as black smoke engulfs the sky
the ocean floor explodes
11 mothers cry"
The first three lines are self-explanatory. 11 mothers cry refers to the 11 people that died in the explosion.
"choking on the black gold
upon which we here rely
we keep axes in the attics
to see cameras in the sky"
Black gold = oil aka "Texas Tea." The line about axes in the attic confused me at first, until I discovered this interesting tidbit from a poster on one of my favorite websites, SongMeanings.com:
"
I'm a New Orleans native and I know a lot of people who keep an ax in their attic in case of rising water. People take refuge in the attic and then if the water keeps rising they get trapped. Folks are advised to keep an ax in the attic so they can break through the roof. Except when Katrina hit, those who broke through their roofs saw only the "cameras in the sky" on news helicopters and still had to wait for rescue."
The sad fact of the matter is, media does very little to actually help with disaster situations. Sure, they tell us that one happened and show us a LIMITED scope of the damages, but they tend to focus on areas that garner a monetary interest. A few people MIGHT care that some low income apartments got destroyed, but watch that mansion start to slide down a hill and suddenly we have a HUGE FUCKING STORY. This is a concept discussed thoroughly in Natural Hazards related courses in college. One thing people tend to forget is that media is a business and businesses operate off of a bottom line: profits. In order for a business to earn profits they need to SELL something. In the case of media, that "something" is a story.
The band released a video for the song not long ago and elected to keep the band members out of it because they felt that including themselves in the scenes would distract from the message of the song/video. Bravo to them for doing so.
You can watch the video here:
"Help is on the Way" is followed by another amazing song with a loud and clear message, "Make It Stop (September's Children)."
"

the cold river, wash him away
but how could we forget
the cavalries of candles
but not their tongues
and too much blood has fallen from the wrist
of the children shamed for those they chose to kiss?"
Many of the lyrics reflect the (real life) tragedy of an 18 year old ("18 years pushed to the ledge")
who commit suicide by jumping from a bridge ("cold river, wash him away") after being ridiculed for his (birth/god/nature given) sexual preference. (more info can be found here:
link
) The title "September's Children" comes from the fact that at least 4 other kids and teens, ages ranging from 13-19, also commit suicide due to sexual-preference based torment within the same month (September 2010). Some of the names are spoken in the background near the end of the song. Whether the song is about bullying homosexuals or bullying in general, the message is powerful and strong. Everything music SHOULD be.